On the 13th of June 2022, the LUMI (Large Unified Modern Infrastructure) inauguration ceremony took place. The event was divided into two sections: a pre-inauguration seminar with keynote addresses and panel discussions and the inauguration ceremony, which took place afterwards, with greetings from Margrethe Vestager, Executive Vice-President of the European Commission, and Anders Dam Jensen, Executive Director of the EuroHPC Joint Undertaking, to name a few. The SDU eScience Center's director, Prof. Claudio Pica, also attended the inauguration as a member of the LUMI Operational Management Board. From home, the SDU eScience Center's administrator, Johanne Lyhne Hansen, followed the event closely via live stream to provide you with a report of some of the interesting topics discussed and messages conveyed at this long-awaited event.
A collaborative effort
The LUMI supercomputer is owned by EuroHPC JU (The European High Performance Computing Joint Undertaking) and hosted by a consortium of ten countries, including Denmark.
One of the key topics discussed both at the pre-inauguration seminar and the inauguration ceremony was therefore how LUMI can be seen a great example of what European collaboration can achieve: we can build the 3rd fastest and 3rd greenest supercomputer in the world in 3 years – even during a global pandemic (the initiative to build LUMI began in 2019).
"We are very happy about the huge decision to invest in HPC together. A joint commitment is what what we need to buy truly collaborative ecosystems that allow for sharing not only the HPC infrastructure as such, but also the ideas, competences and data revolved around it. It is a sum of all this work that will lead to completely new ways of thinking that can generate major scientific breakthroughs and industrial innovation."

Kimmo Koski, Managing Director of CSC – IT Center for Science.
"This model is a new one where the European Commission and member states are working together, hand-in-hand, to create this kind of long lasting infrastructure. The LUMI we inaugurate today is state-of-the-art, but it will need to improve and there are already plans in this respect. But what is really important is that we have started a solid and concrete path in terms of sustaining an ecosystem of knowledge and innovation."

Roberto Viola, Director-General of European Commission's DG for Communications Networks, Content and Technology.
The collaborative efforts surrounding LUMI and EuroHPC will not limit itself to the boundaries of Europe however. Collaboration with the U.S. and Japan is already taking place, and there is also the possibility that EuroHPC will expand its collaboration even further, e.g. to developing countries.
"There are serious problems where supercomputing can be part of the solution, e.g. in medicine and in food supply. We have already started a collaboration on supercomputing with India. EuroHPC is the natural organisation to develop this federation of interest, e.g. looking at African partners."

Roberto Viola, Director-General of European Commission's DG for Communications Networks.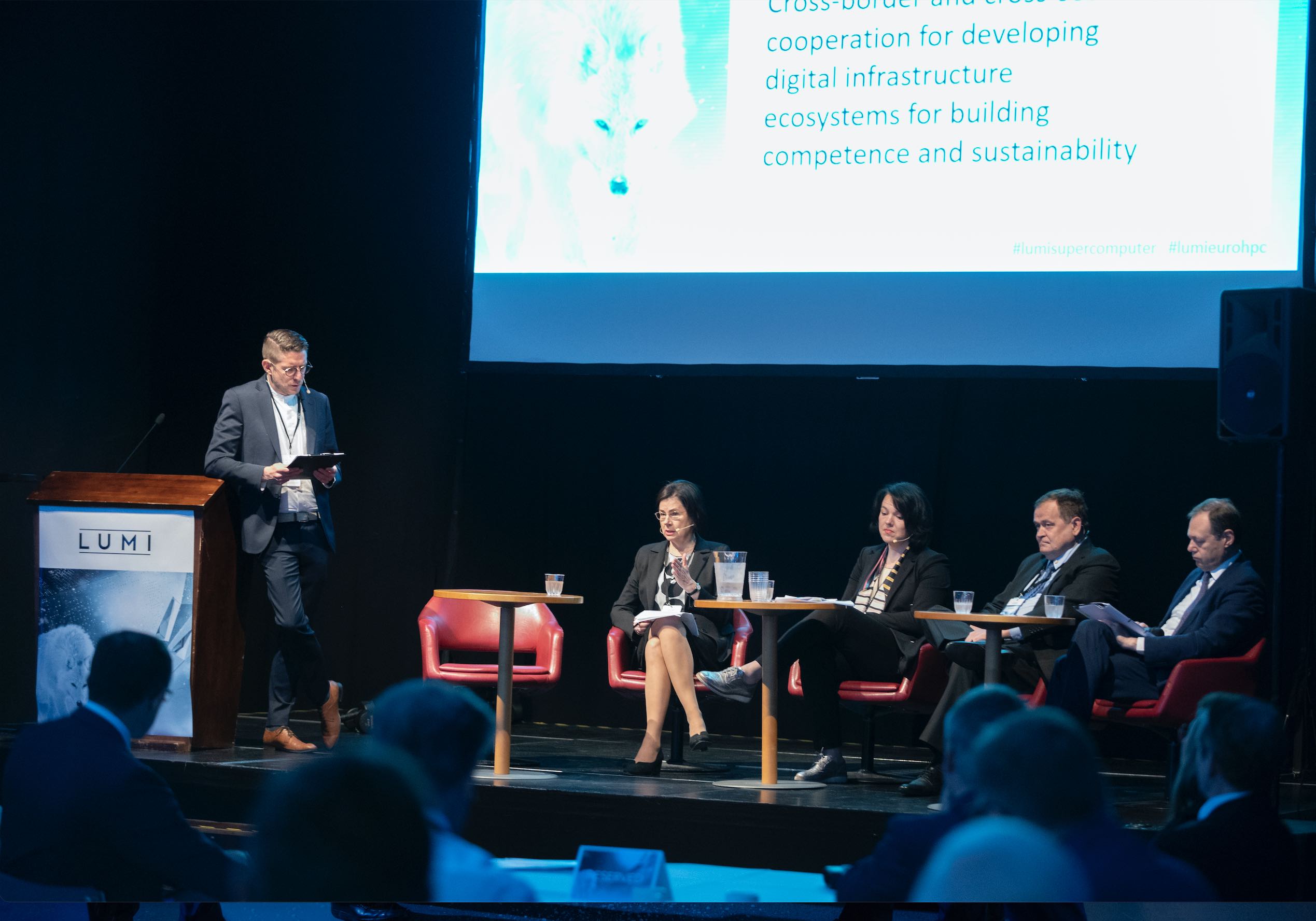 From left to right: Ms. Anita Lehikoinen, Permanent Secretary of Finland's Ministry for Education and Culture, Ms. Ilona Lundström, Director-General for Innovations and Enterprise Financing of Finland's Ministry for Economic Affairs and Employment, Mr. Roberto Viola, Director-General of European Commission's DG for Communications Networks, Content and Technology and Mr. Timo Pesonen, Director-General of the European Commission's DG for Defence Industry and Space. Moderator: (standing) journalist Ville Blåfield. Image: Pekka Agarth
LUMI as an instrument to fight climate change
One of the great benefits of placing a supercomputer like LUMI in a remote, northern city like Kajaani, Finland, is that the cool climate of the region means that little energy is needed to cool the computer. In addition, LUMI gets all its electricity from 100 % renewable hydroelectric power and LUMU's waste heat will cover 20 % of Kajaani's annual demand, ensuring that LUMI's overall carbon footprint is negative. For reasons such as these, LUMI was ranked as the 3rd greenest supercomputer in the world on the Green500 list that was released at the end of May 2022.
But aside from its energy efficiency, the science made possible by LUMI can also contribute significantly to the global efforts to mitigate the effects of climate change. Many of the keynote speakers and panelists at the inauguration pointed this out. Margrethe Vestager, Executive Vice-President of the European Commission, emphasised the important role that LUMI will play in the ambitious Destination Earth (DestinE) initiative, which aims to develop a so called Digital Twin of the earth to monitor and predict natural and human activity.
"Using huge amounts of information gathered from satellite and terrestrial data, LUMI will allow to provide weather forecasting, urban and rural planning, waste and water management or marine and frozen environment modelling. This will help us speed up the green transition and manage and prevent major environmental degradation and disasters."

Margrethe Vestager, Executive Vice-President of the European Commission.
Timo Harakka, Finland's Minister of Transport and Communications, also praised LUMI for its contribution to the green transition:
"LUMI is an excellent example of an ICT (Information and Communications Technology) solution with a large carbon handprint and a small carbon footprint. LUMI provides next generation tools for climate solutions, being one itself."
Now we have the supercomputer – we also need the super humans
LUMI is a pre-exascale system based on a Cray EX supercomputer which has been supplied by Hewlett Packard Enterprise (HPE). It is capable of executing more than 375 petaflops or more than 375 million of billion calculations per second. But no matter how impressive the state-of-the-art supercomputers are today (LUMI was just ranked as the 3rd most powerful supercomputer in the world on the Top500 list), human kind will not be able to take full advantage of such machines if we do not also invest in awareness, education and research communities. Several panelists and keynote speakers emphasised that ideas, skilled researchers and policymakers who are aware of the possibilities and solutions offered by supercomputing is as important as infrastructure.
"Now we have the supercomputer – we need the super humans and minimum bureaucracy. We have cases where the answers coming from the supercomputers were not seen, were not listened to, and we have many processes which are still far from being digital. That part of the journey – the human part of the journey – is also very important."

Roberto Viola, Director-General of European Commission's DG for Communications Networks, Content and Technology.
The importance of data
The availability of data is an equally important component if we want to make full use of the possibilities offered by supercomputing. US and China are less restricted in this area, and in the panels of the pre-inauguration seminar, it was discussed how the EU can continue to be a front-runner when it comes to data protection, while simultaneously ensuring that EU researchers are not inhibited in their research or lose out on the many opportunities offered by free flows of data.
"There are accidents if we do not get the good data from private cars or there will be climate catastrophe if we do not get the data right."

Miapetra Kumpula-Natri, Member of the European Parliament.
"We have to find the third way where we protect the data needs, but at the end of the day, we lost the battle if we are not able to find this way quickly."

Herbert Zeisel, Deputy Director-General at Germany's Federal Ministry of Education and Research, Chair of the Governing Board of the EuroHPC Joint Undertaking.

From paper mill to data center
The inauguration ceremony was nicely finished with the ringing of an old bell. The bell was gifted in 1982 – exactly 40 years ago – when paper machine 4 was inaugurated in the same hall where the LUMI data center is now placed. The ringing of the bell in this sense marked the historical aspect of the LUMI inauguration. What was once the home of one of the largest newspaper mills in Europe, today hosts Europe's fastest supercomputer.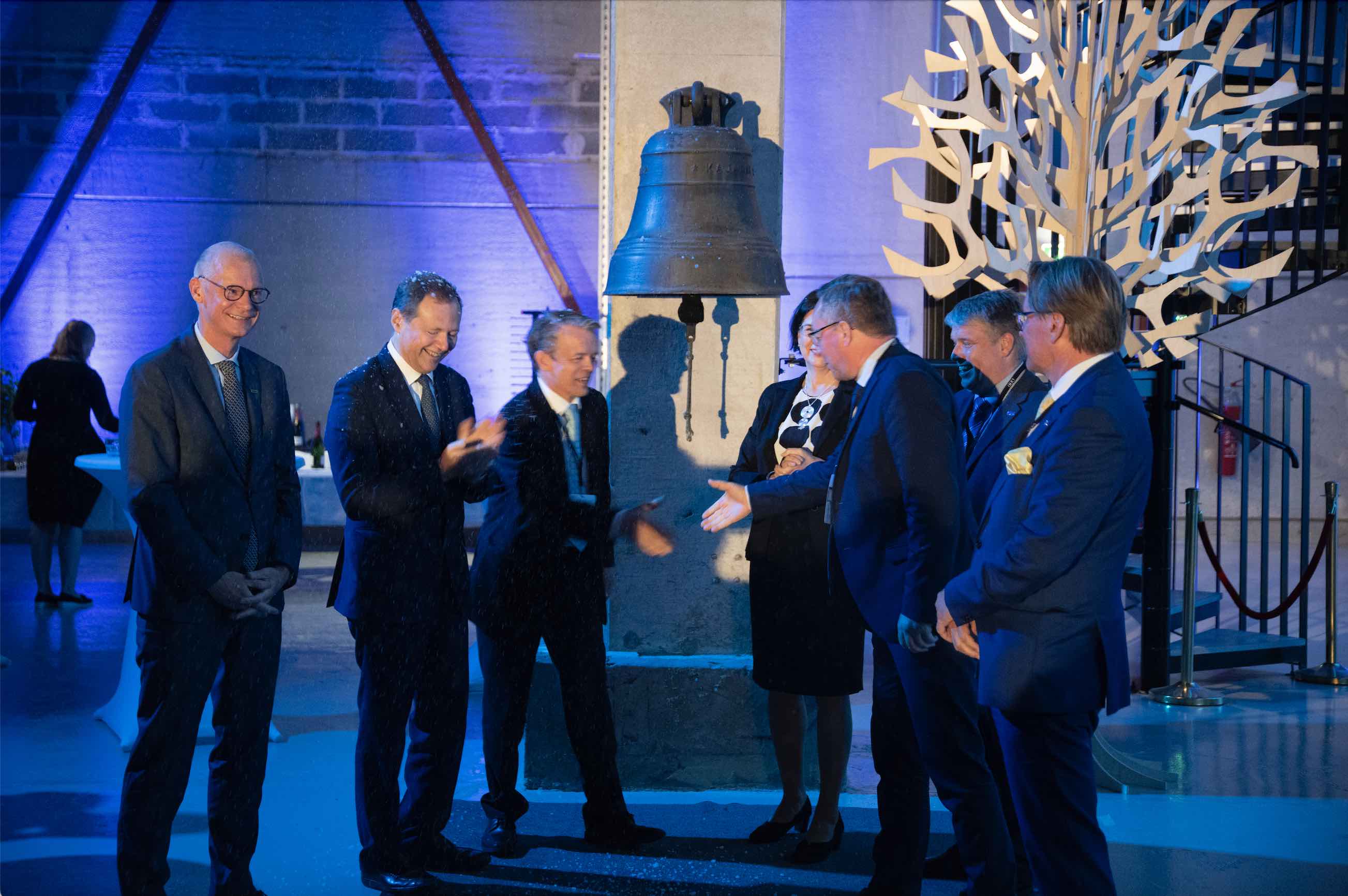 Image: Pekka Agarth
More information
Recordings of the LUMI pre-inauguration seminar and the inauguration ceremony has been made available here and here.
You can find more information about the LUMI supercomputer here.
Read more about EuroHPC here.
Denmark owns a share of the LUMI supercomputer and Danish researchers can therefore apply for resources via the national calls or by contacting their local Front Office. In addition, Danish researchers can also apply for resources via the EuroHPC calls.